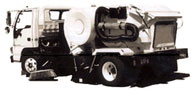 We have been serving Metro Atlanta since 1999 and we are totally committed to our clients' maintenance needs.
We offer a variety of services. Please click on the service of your choice for more detail. When requesting a quote, we advise that you include all possible services that you might be interested in, as the more services requested, yields a larger savings.
Let Tri-County Power Sweeping save your company money and help you manage your properties more efficiently. We can be your complete maintenance provider:
One contract
One invoice
One insurance certificate
One emergency contact number
One service representative
One quality assurance program
One company - Tri-County Power Sweeping, Inc.