Post Winter Clean-Up For City Streets
As we all know, winter leaves layers of sand, trash/debris and an abundance of leaves on our streets. This in turn causes extreme harm to our living environment.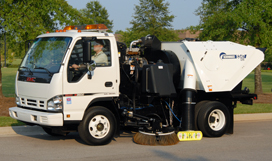 Storm water pollution is our adversary.

Pollutants are picked up as water (from rain, hoses, sprinklers, etc.), drains from streets, parking lots and lawns and enters the more than 3,000 catch basins throughout the metro area.

Storm water pollution poses serious health and environmental risks. Swimmers and people fishing are exposed to health risks. Marine plants and animals become sick or die from contact with storm water pollution. Clogged catch basins decrease the quality of life in many neighborhoods. The compilation of trash and debris can attract rats and cockroaches, create foul odors, and clog the storm drain system. This will affect neighborhood aesthetics and property values and cause local flooding.

Tri-County Power Sweeping is offering very competitive pricing for street sweeping services this year. Spring is the season of fresh flowers, green lawns, and budding trees. Let Tri-County Power Sweeping help keep your neighborhood beautiful.